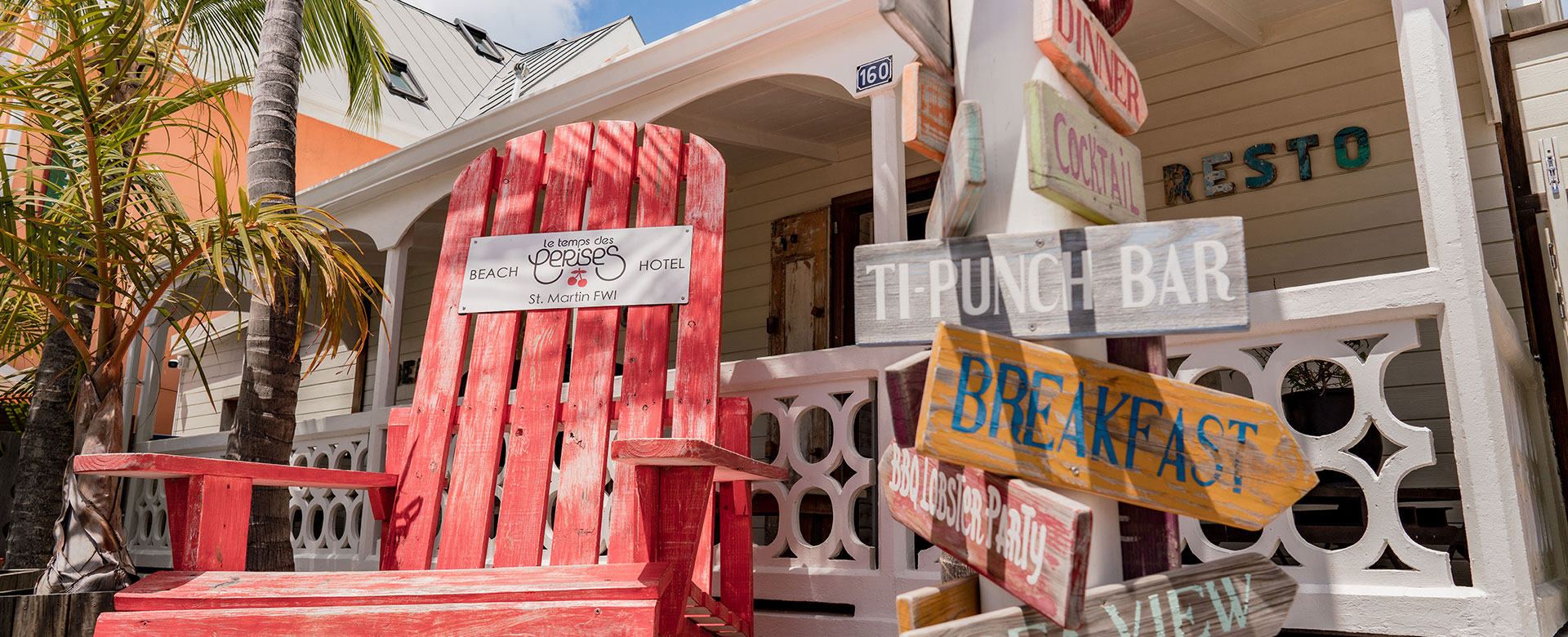 LE TEMPS DES CERISES
For your vacation by the beach, this boutique hotel is an absolute must. With its breathtaking view over Grand Case Bay, Le Temps des Cerises invites you to put your feet up and enjoy a bohemian journey in a stylish setting.
You'll fall asleep to the soothing sound of the waves, and wake to the hues of blue offered by the Caribbean... Time to unwind! Le Temps des Cerises is your breath of fresh air. You'll enjoy the sea air even in your room which has its own balcony or patio overlooking the sea. You'll have direct access to the beach, where hotel guests get free use of the sun loungers, and you can bathe in the turquoise waters any time of day, before sipping a cocktail as you watch the sun go down over the bay of Grand Case, just the right spectacle of sparkling beauty to keep you happy.

This charmingly cozy hotel proposes 8 "Standard", "Comfort" and "Superior" rooms. An intimate, family hotel with the same merry atmosphere as the lively village of Grand Case, which is reputed for its multiple fine-food restaurants. Le Temps des Cerises also serves its own bistro-style cuisine in the purest of French tradition, a delight for the tastebuds. The bar opens daily from 8am.
Capacity
8 maximum number of guests
LE TEMPS DES CERISES
Grand Case


158 boulevard de Grand Case

97150, SAINT-MARTIN

Send an email to the establishment
Main facilities at the establishment
High-speed WiFi

Beach

Restaurant

View overlooking the sea
Services/Amenities
Wifi
Boutique
Air conditioning
Private parking
Beach
Restaurant
Sea View
Beach chair
Beach umbrella
Beach towel
Book
Direct booking

Contact's name: carole
Check out what is near to
LE TEMPS DES CERISES in Grand Case