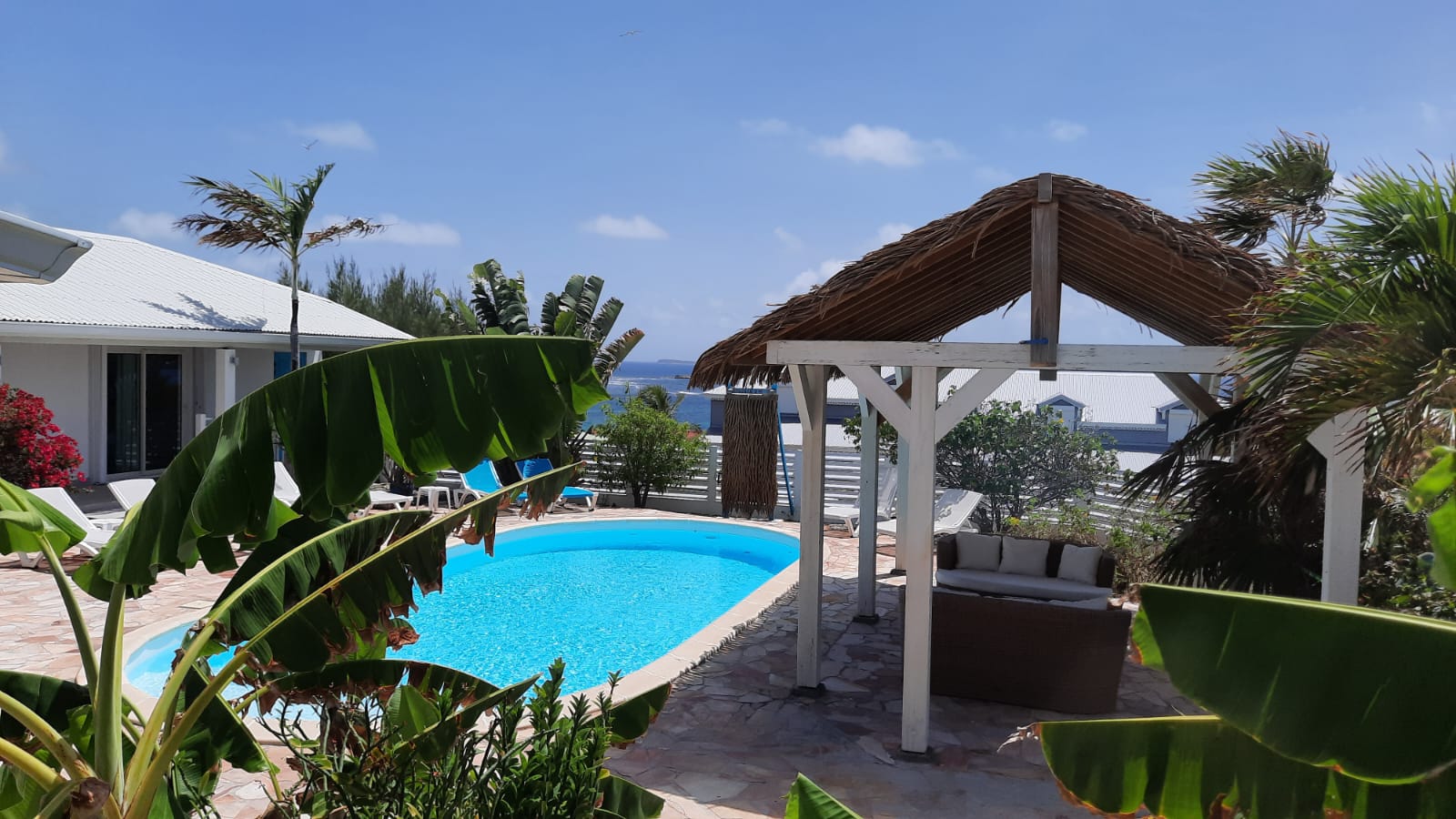 TIKO LODGE SXM
This guesthouse welcomes you to Oyster Pond, the ideal district for recharging your batteries in a peaceful setting near the ocean. A stone's throw from the border, the location is ideal for enjoying the beach, visiting the most popular sites on the French side and the attractions of the Dutch side.
Tiko Lodge is a villa tucked in a garden full of bloom, in the tranquil atmosphere of the village of Oyster Pond whose inhabitants do all they can to preserve the peace and quiet. Two studio apartments and four rooms occupy two buildings, offering total privacy with the soothing sound of the waves in the background. The rooms each have a refrigerator and a kettle, while the studio apartments sleep up to 4 people and have their own kitchenette. For your vacation with friends or a large family, the villa can be rented in its entirety to accommodate up to 16 guests.

The superb 8-meter swimming pool offers undisturbed relaxation and refreshing dips, as if you were at home. Not far from Tiko Lodge, you'll find two beautiful beaches, the unspoilt Baie Lucas on the French side, and Dawn Beach on the Dutch side.

In the heart of Oyster Pond, there's a mini-market and a handful of restaurants. Within 3km, you'll be able to make an easy escape to Orient Bay to enjoy the famous beach and, in the evening, the lively village.

Capacity
2 family rooms

8 beds

16 maximum number of guests

4 rated rooms
TIKO LODGE SXM
Oyster Pond


21 Rue des Arawaks

97150, SAINT-MARTIN

Send an email to the establishment
Main facilities at the establishment
High-speed WiFi

Spa/Pool

View overlooking the sea
Services/Amenities
Wifi
Air conditioning
Private parking
Swimming pool
Sea View
Meeting room
Beach chair
Comfort
Iron
Hairdryer
Mini bar
Shower
Free Wifi
Storage space
Towel
Book
Direct booking

Contact's name: Mr BOCQ

Direct booking

Direct booking

Contact's name: www.tikolodgesxm.com
Check out what is near to
TIKO LODGE SXM in Oyster Pond