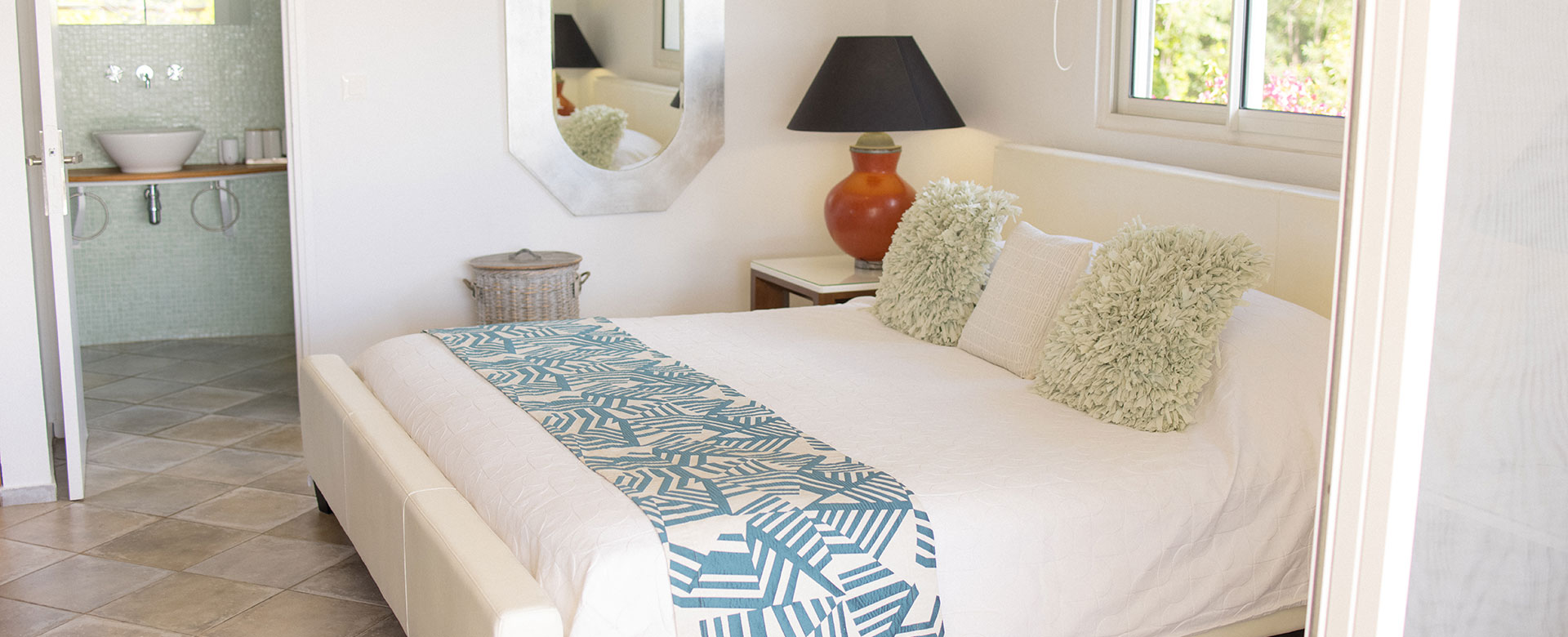 VILLA ZENITUDE
Villa
-
Villa
The perfect romantic getaway... Nestled in a luxuriant garden, this pretty house stands in the prestigious residential area of Terres Basses amid the island's most beautiful dwellings. You'll feel at home in this inviting villa that greets guests with a bottle of champagne to be enjoyed at the poolside.
Down to the last detail, the owners of the Villa Zenitude have done everything to ensure your stay unfolds like a dream. The airconditioned, fully-equipped villa features an enormous bedroom with a king-sized bed. A third bed can be installed and a cot is available on request. By the swimming pool, a gazebo will be the scene of your most memorable moments, from breakfast to the beautiful spectacle of sunset.

The Villa Zenitude stands in the 3-hectare grounds of the landlord's home, with enough distance from the main building to ensure you enjoy absolute privacy, yet close enough if you need any help during your stay. Surrounded by the luxuriant vegetation of the gardens, you'll find yourself in the company of all sorts of birds that will brighten up your haven of tranquility.

On the shores of Terres Basses, you'll discover Plum Bay and Long Bay, two of St. Martin's most beautiful beaches.

Juliana Airport and the festive village of Maho are barely a 10-minute drive away. The Villa Zenitude is also close to Marigot, where you can wander through the market and the lovely boutiques in the town center, and sample a pastry from the French bakery.
Spoken language(s)
German

English

French

Dutch
Capacity
1 accommodation

1 room accessible to persons with reduced mobility

1 bed

2 maximum number of guests

1 maximum number of guests

1 rated room

2 maximum number of guests in rated rooms
VILLA ZENITUDE
Terres Basses


47 TERRES BASSES

SAINT-MARTIN

Send an email to the establishment
Main facilities at the establishment
Services/Amenities
Sheets provided (free)
Linen provided (free)
Cleaning
Wifi
Park/yard
Swimming pool
Sea View
Pets are welcome
Comfort
Iron
Hairdryer
Safety-deposit box
Shower
Television with foreign channels
Free Wifi
Storage space
Towel
Air-conditioning
Private entry
Private yard
Parking
Single-story
Private bathrooms
Enclosed land
Terrace/balcony
Separate toilet
Accessibility
Access for persons with reduced mobility
Other useful information
High Season
1 room 1 night 2 people breakfast (bed and breakfast)
From 24/04/2022 to 02/07/2022
1 room 1 night 2 people breakfast (bed and breakfast)
From 02/07/2022 to 18/12/2022
1 room 1 night 2 people breakfast (bed and breakfast)
From 19/12/2022 to 05/01/2023
1 room 1 night 2 people breakfast (bed and breakfast)
Accepted payment methods
Checks and giro check
Paypal
Cash
Check out what is near to
VILLA ZENITUDE in Terres Basses