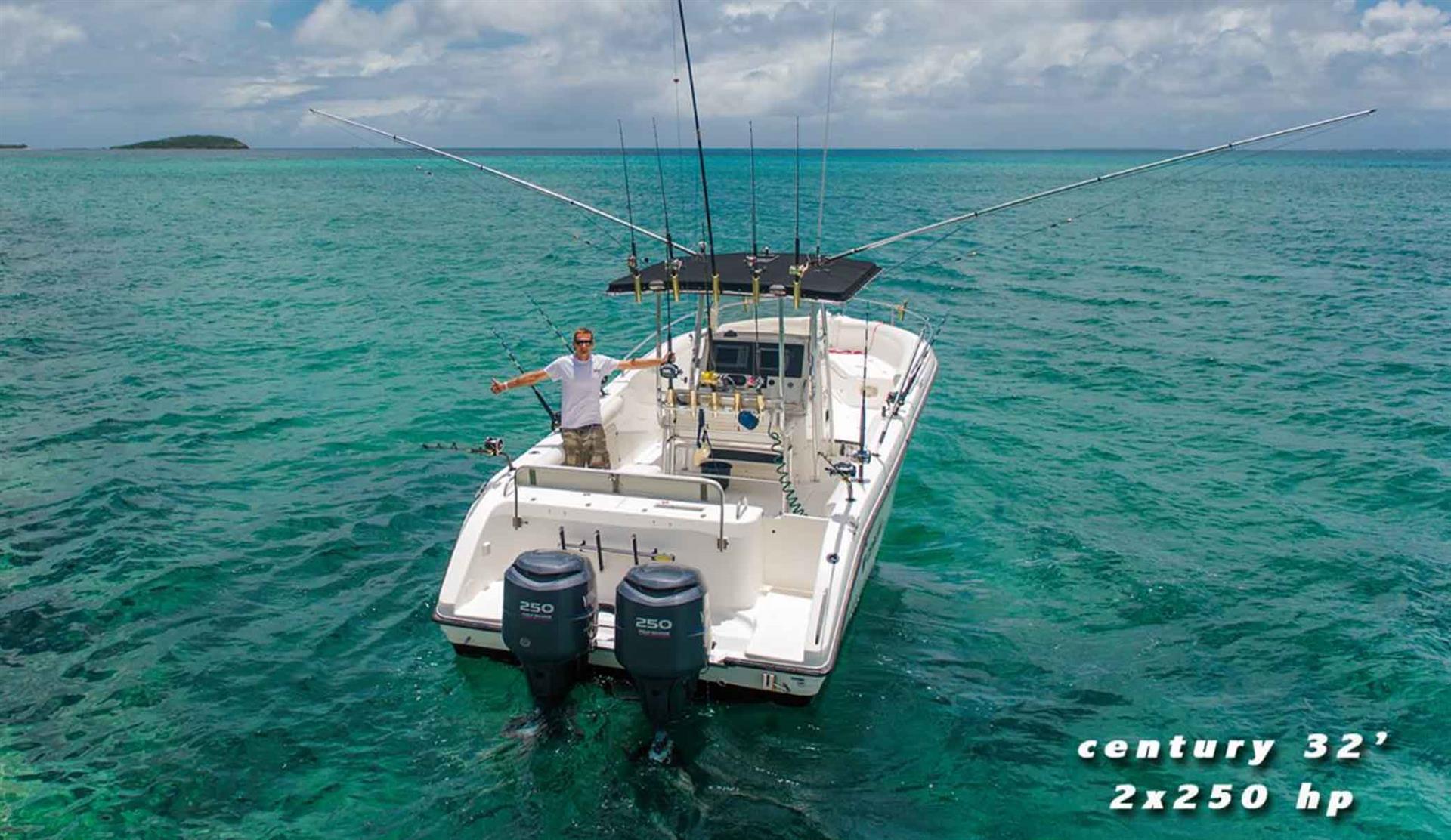 DEXTER BOAT CHARTER
Sporting activities
,
Boat rental without skipper
,
Charter boat rental
,
Fishing
,
Offshore fishing
For some sporty action or a little relaxation, take to the sea with Dexter Boat Charter. Discover the best fishing spots, teeming with life, just a few nautical miles from the shores of St. Martin, or escape for a day to visit the fine sandy havens of St. Martin, St. Bart's, or Anguilla.
Fishing is an ancient tradition on our Caribbean islands. You only have to go a short distance off the coast of St. Martin to discover an exceptional abundance of fish and enjoy your passion to the fullest. For an unforgettable day's fishing, Christophe, the skipper, will take you out on his Century 3200 equipped with Shimano fishing gear. Don't worry, he keeps it in excellent condition and replaces it regularly. Trolling, FAD fishing, jigging, longline fishing... Your efforts will be rewarded with mahi-mahi and many other fine specimens.

Dexter Boat Charter also proposes excursions to explore the scattering of heavenly islets off the shores of St. Martin. Dive into the warm, crystal-clear waters of Pinel and Tintamarre, play at Robinson Crusoe on the tiny Sandy Island and gaze at the bewitchingly wild beauty of Prickly Pear or Dog Island, veritable bird sanctuaries. Christophe also proposes day charters to elegant St. Bart's.

When you arrive on the island, opt for a boat rather than a car, with Dexter Boat Charter! To get the best of St. Martin the instant you arrive, ask Christophe to pick you up from Juliana and skipper you to the place of your choice.

Info
Point of departure : Marigot
DEXTER BOAT CHARTER
Sandy Ground


24 rue lady fish

97150, SAINT-MARTIN

Send an email to the establishment
Main facilities at the establishment
Check out what is near to
DEXTER BOAT CHARTER in Sandy Ground