Have you ever wondered what the ocean and beaches would look like from the sky?
For an unforgettable, thrilling experience and to admire the island from a different angle, nothing could be more exciting than skydiving with SXM. At the Grand Case airport, come and get a taste of the joys of freefalling, a blend of pure pleasure and freedom.
OT Parachute
In the warm skies of the Caribbean from November to the end of April, tandem skydiving from an altitude of 3,000 meters with a qualified instructor is a breath-taking adventure. You'll get all the necessary briefing beforehand, find out how to use the equipment and the positions you need to adopt. An experienced skydiver will be by your side the whole time, to remind you of what you need to do and the safety instructions to abide by. The briefing session is led by a professional who will listen to any queries you might have and who loves to tell you all about their experience. They will open the door to paradise for you, safely attached to a harness.
A timeless experience
In comfortable clothing and equipped with all the necessary equipment on loan (suit, goggles), come and enjoy this timeless experience, between freefalling and gently gliding through the air. Even the plane trip is a thrilling part of the adventure. It's a way to familiarize yourselves with the area and recognize the coastlines. Then, the door opens and it's time to jump. Embrace the skies. You are skydiving in St. Martin. You are entering a whole other dimension.
For any occasion
You might choose this intense experience as a way to celebrate a special occasion, such as a birthday, wedding, for Christmas or the holidays, and this occasion is sure to be an unforgettable one. Admire the different shades of blue while traveling at over 200 km per hour over St. Martin, St-Barth, Tintamarre, Pinel Island and any other places you recognize from up above.
Where can I take to the skies?
Magic and poetry await. To experience this for yourself, just one step will take you into the skies.
The freefall enthusiasts will be delighted to assist you and organize a one-of-a-kind adventure just for you.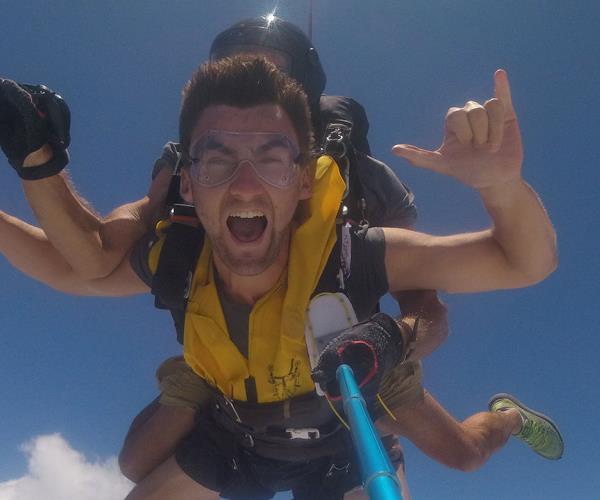 Activity
Try skydiving in St. Martin! Get your heart pumping and feel the thrills with this unforgettable free-fall experience. Are you ready to jump? Visit SXM Parachute at Grand Case Airport.
Learn more