Vacations are always a great time to reconnect with your inner self, become mindful of your own needs, and discover a new enthusiasm for activities you wouldn't normally do. The main thing is to find a diverse playground that will inspire you to find the courage to break away from normality, spring into action, and go off the beaten track. Dare to try some amazing activities and you'll even surprise yourself!
Adrenaline thrills in the thick of the canopy
Just beyond the Rambaud district, in a tropical forest at the foot of Paradise Peak, you'll discover a haven of peace with a few surprises in store! This is your playground for an activity that's even more spectacular than the traditional treetop adventure trail, with much more to offer than a simple zipline. This hair-raising place with a difference is a proper fly zone and it proposes one of the most thrilling activities you'll find on St. Martin.
At Loterie Farm, you'll find yourself surrounded by the tropical canopy, moving like a bird between kapok trees and banyans, gazing at the beautiful vegetation stretching around you as far as the eye can see. Along the walkways, rope bridges, observation platforms and ziplines, you'll discover the joys of exploring a mysterious, unchartered territory.
In the treetops, you'll smell the scent of the forest, the different species of trees and flowers, and feel the heat of the sun shining just above your head. You'll find yourself upside-down in another dimension, neither quite vertical nor horizontal. You'll rewrite the laws of gravity amid fits of laughter, adrenaline, and amazement. The experience will end in a spectacular zipline descent back down to solid ground. To prolong the moment in this magical place nestled beneath the incredible canopy, you'll take a dip in Loterie Farm's spring-water swimming pool. Slouched in a deck chair by the pool, you'll gather your strength for an afternoon to the rhythm of electronic music. The deck of Loterie Farm swimming pool will become a dance floor for the Treehab Pool Party. Every Saturday from 4pm onwards, you'll be entertained by the island's top DJs.
Fun at over 125 miles per hour
Your stay on St. Martin will be a succession of joys and wonderful adrenaline-filled moments.
In the warm skies of St. Martin, from November to the end of April, tandem skydiving from an altitude of 10,000 feet with a qualified instructor is a breathtaking adventure that will add a little high-speed fun to your life. For a memorably thrilling experience and to admire the island from a different angle, there's nothing more exciting than skydiving.
At Grand Case Airport, you'll book your parachute jump with an experienced instructor who will guide you through the gateway to the sky. For your first skydive, SXM Parachute will make all the arrangements and provide the appropriate gear. At over 125 miles per hour, you won't believe your eyes as you recognize St. Martin, St. Barthelemy, Tintamarre, Pinel Island, and all those other places you've visited. This brand new adventure will have you plunging headfirst into the void!
Trade winds and the dream of Icarus
If, like Icarus, you've always dreamed of flying and getting closer to the sun, then Orient Bay is the ideal place to nurture your ambition. If you're on a quest for even more adrenaline, then flyboarding should appeal to you. Tethered behind a jet ski, you'll be propelled vertically into the air with both feet attached to a small board. You'll attempt to surf on the air and find the perfect balance. The instructors at Bikini Water Sports will organize your acrobatic experience in the turbulent trade winds above the turquoise water. For twenty fabulous minutes, you'll feel weightless zipping above the ocean. You'll become a modern-day flying human.
If you don't feel quite so strongly about taking to the sky, you'll be delighted by the chance to try parasailing. Again, your dream can come true with Bikini Water Sports, who are true masters of the wind. Tethered behind a speedboat, you'll launch yourself into the big blue sky as the sun shines its spotlight on your performance. The ocean's generous trade winds will fill your sail. Your twelve-minute flight will get you feeling ecstatic! 
With a beaming smile and your heart beating madly, you'll be overwhelmed with emotion. Your days on St. Martin will be all about enjoyment, discovery, and a contagious feeling of joy. Nature will offer you all the terrain you need to let your adventures unfurl for an escape full of suspense. Come and have fun the Caribbean way!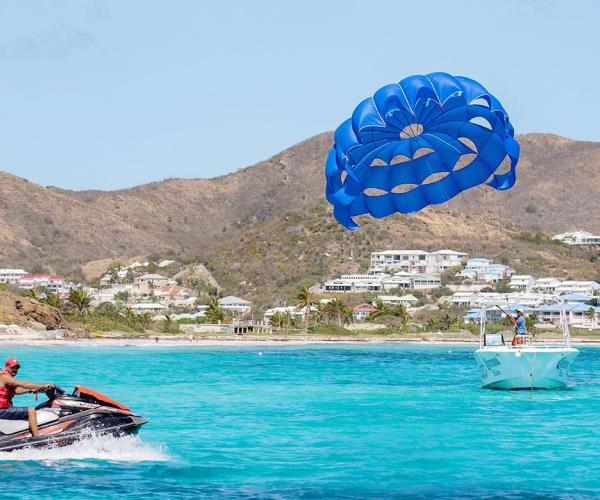 Activity
The qualified team at Bikini Watersport have 20 years' experience guiding adventurers on the waters of Orient Bay, where you can expect thrills galore. Exercise, fun, and brand new experiences in the St. Martin sunshine!
Learn more