The islands of Saint Martin, Anguilla and Saint Barthélemy form a geological plateau that is a breeding ground for humpback whales. They come to these warm waters to seduce a partner and mate.
This is the time of year when the whales are easiest to spot because the water is full of movement. The waters become an open stage for their mating rituals.
Divers are sometimes lucky enough to hear the song of the males, who can vocalize under water for up to half an hour before returning to the surface to breathe. During the mating season, active groups of males travel fast in the hope of finding a willing female. So they can be observed in this vast area from December to April. The humpback whales then return to cold waters in search of food.
Dolphins can also be seen in the waters around Saint Martin. They often travel in dense groups and sometimes swim at the bow end of vessels. Their curiosity is legend and they are very friendly. More than twenty species of marine mammals are present around Saint Martin. The ocean is the ideal ecosystem for toothed whales (sperm whales), pantropical spotted dolphins, and baleen whales.
Where to Watch Whales Where to Watch Dolphins
Several partners who work hand-in-hand with the Saint Martin Nature Reserve have made patiently watching whales and dolphins possible, as the cetaceans benefit from the safety of a protected zone between Saint Martin and Saint Barthélemy.
This aims to ensure the conservation of marine mammals by focusing on their habitat and the known or potential negative impacts, whether direct or indirect, of human activity.
Therefore, whales and dolphins are frequently seen in the waters around Creole Rock, Tintamarre Island, Scrub Island, near Anguilla, and all around Saint Barthélemy.
Getting to the Watching Spots
The whole family can enjoy whale and dolphin spotting. Call upon professional seafarers, who know how these animals behave and will ensure you and they stay safe. They will take care of everything. An adventure out at sea always starts very early. You'll embark on a catamaran or a motor boat at around 7:30am for an unforgettable day trip. The professionals will guide you during your expedition and tell you about the whales and dolphins encountered along the way. Various companies propose regular whale and dolphin watching excursions for small groups of friends or families (Scoobidoo, Wind Adventures, Tropicalboat-sxm).
Cetacean Watching Rules
If you're lucky enough to observe cetaceans socially interacting in the wild, you'll never forget the experience. The sight is a just reward for patient observers. The cetaceans will give you a glimpse of their private life, breaching the water's surface, or showing their fins. But whale and dolphin watching always demands compliance with a few simple rules, to ensure your safety and the animals' wellbeing.
Pleasure boaters should be vigilant toward marine mammals, to avoid frightening, harassing, or colliding with them. 
This is why it is important to follow these instructions:
Do not approach an animal that is resting or surfacing.
Always approach sideways from the back, gradually adopting a direction parallel to the animals' trajectory and never passing them.
Never move within 1,000 feet of a group. Keep moving at a speed of at least 5 knots on entry, within the caution zone, and on exit.
Place the engine in neutral if the animals approach the boat.
Move away if any animal shows signs of stress.
If several boats are in the area, do not surround the animals. All boats must stay on the same side and never break up the group. Do not get in between the cetaceans and any other boats already present.
Avoid any sudden changes in gear, speed, or direction.
Limit your presence in the caution zone to thirty minutes at most.
Do not swim and do not touch or feed the cetaceans.
Activité
For a dream day, climb aboard a 75-foot catamaran and take to the sea off the shores of St. Martin to discover the neighboring islands. Let the lapping water and trade winds soothe you, soak up the tranquility of the open sea, and spot the sandy haven that awaits you in the distance.
Je découvre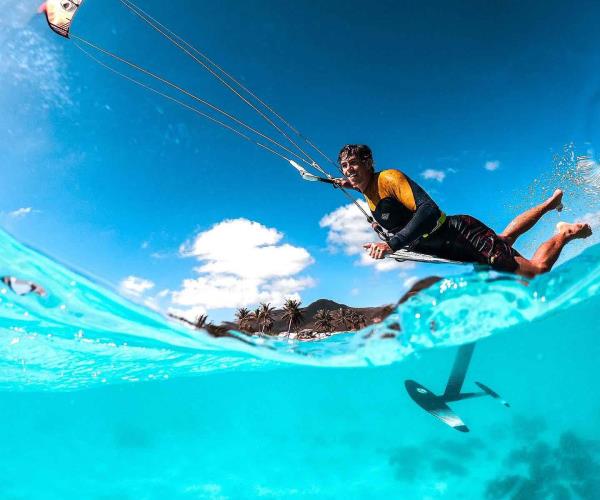 Activité
At the legendary beach of Orient Bay, the experts from Wind Adventures propose a wide range of activities for fun galore on the turquoise waters of St. Martin. Kitesurfing, windsurfing, stand-up paddleboarding, kayaking, foilboarding, Hobie Cat sailing, catamaran cruises... There's something for everyone when it comes to enjoying yourself on the sea.
Je découvre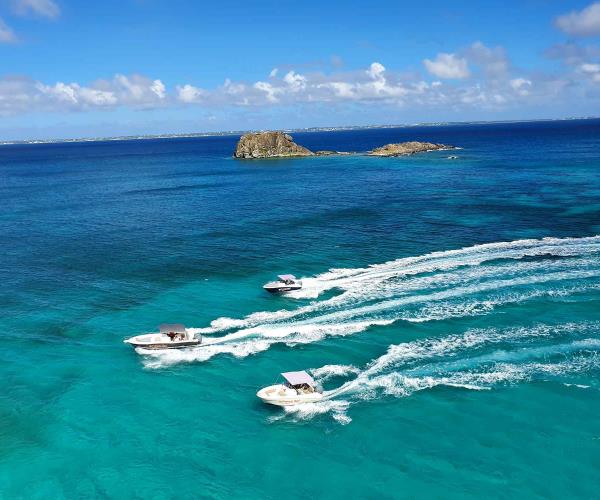 Activité
Treat yourself to a sun and sea spray drenched experience on crystal-clear waters with Tropical Boat, the specialist in private boat rental. You don't need a boating license, rent a boat with or without a skipper and embark on a trip to discover the most beautiful beaches of St. Martin and its idyllic islets.
Je découvre