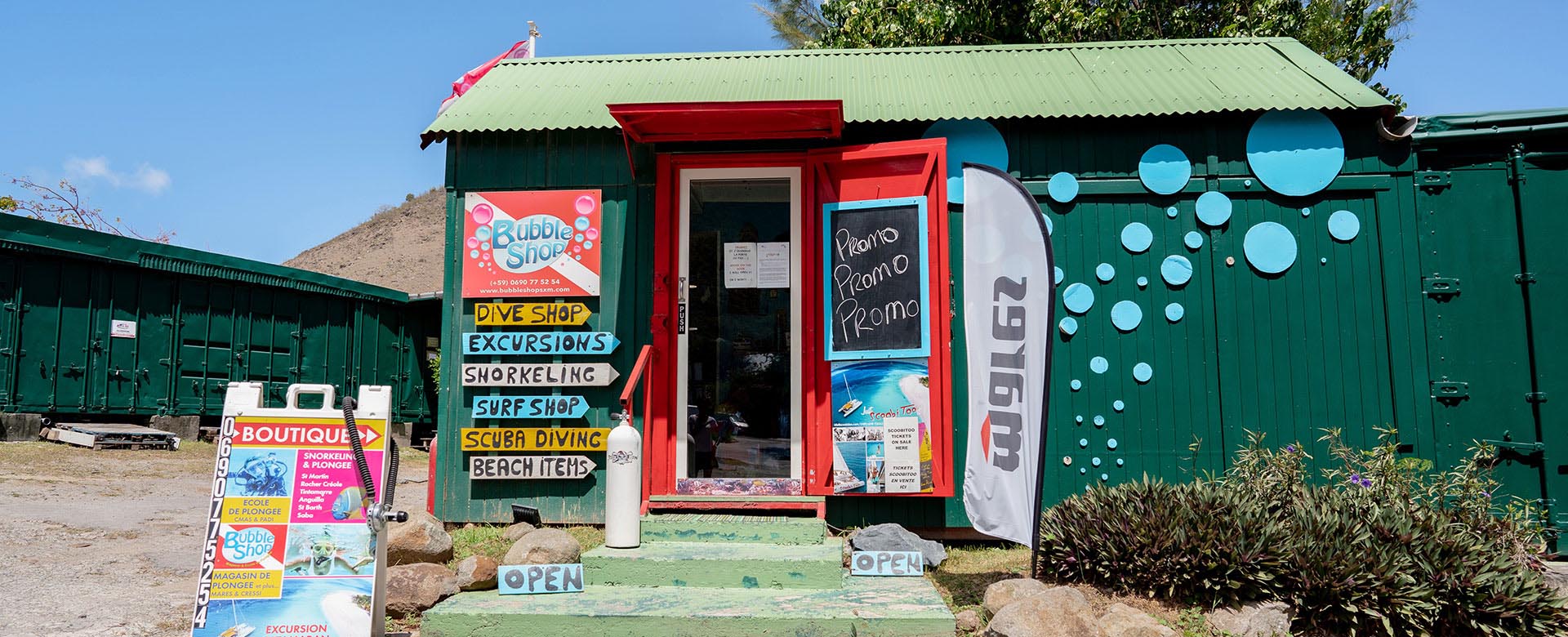 BUBBLE SHOP
Sporting activities
,
Supervision
,
Initiation
,
Boutique
,
Diving club
,
Boat rental with skipper
,
Boat rental without skipper
,
Equipment rental
,
Charter boat rental
,
Advanced course
,
Catamarans
,
Jet-ski
,
Fishing
,
Diving
,
Standup paddleboarding
At Bubble Shop, Sylvie and Vincent share their passion for the sea and for St. Martin, truly a paradise that beckons you to dive into the translucent water and explore the magnificent seabed. Come and make bubbles as you admire the fish, swim with turtles, and discover the abundance of underwater life.
The Bubble Shop team is on hand to guide your unforgettable excursion into the warm waters of St. Martin. Geared up with flippers, mask, and snorkel, you'll be taken by Bubble Shop on a snorkeling adventure to swim with the beautiful green turtles of Tintamarre, admire the colorful fish around Creole Rock, or explore the coral reef at Green Cay.

With calm, clear waters all year round, hardly any currents and a seabed within easy reach even for beginners, St. Martin's diving sites offer ideal conditions. They are perfectly safe and allow you to see a huge variety of fish and marine mammals around the coral reefs. Bubble Shop's qualified and experienced instructors will guide you in a small group for your first scuba dive or for a whole training course.

Let Bubble Shop show you the very best of the Caribbean as you also explore around the neighboring islands of St. Bart's, Saba, Anguilla, or Tintamarre. Head for the activities desk on Route d'Orient Bay, and don't forget to visit the lovely Bubble Shop boutique, which specializes in nautical equipment and accessories.
BUBBLE SHOP
Cul-de-Sac


Rond point de Cul de Sac,route d'Orient baie, à coté de Cosy

97150, SAINT-MARTIN

Send an email to the establishment
Other service(s) offered by this service provider
Main facilities at the establishment
Qualified instructor/guide

Parking
Services/Amenities
Parking
Service provided by a qualified instructor/guide
Accepted payment methods
Credit cards
Checks and giro check
Check out what is near to
BUBBLE SHOP in Cul-de-Sac