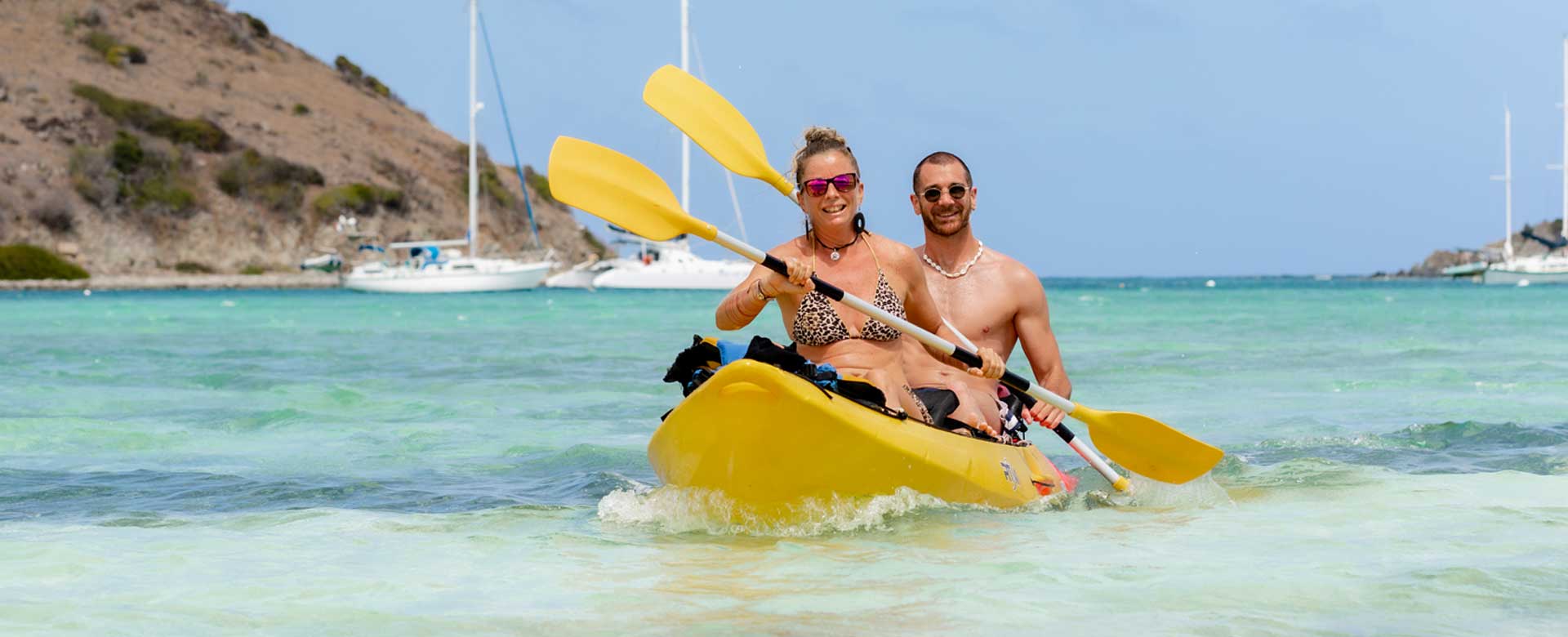 CARIBBEAN PADDLING
Sporting activities
,
Equipment rental
,
Canoeing - kayaking
,
Sea kayaking
,
Snorkeling
,
Standup paddleboarding
In the heart of St. Martin's Nature Reserve, discover Pinel Island, a jewel of fine sand and turquoise water, and spend a day basking in a tropical paradise. Explore Cul-de-Sac Bay by kayak or paddleboard before going ashore on this unspoiled islet where you'll find two restaurants and an incredibly beautiful landscape.
Caribbean Paddling on the Cul-de-Sac jetty propose excursions in this tranquil sun-soaked bay, on paddleboards or 1 to 4-seater kayaks. Whatever your level, you can take to the sea to admire the exceptional panorama and the lovely clear water teeming with life. Here, nature is protected and promises fascinating encounters with pelicans that skim the surface of the sea, fish that swim in schools, maybe a stingray or two, and sea turtles that poke their heads out of the water beside you. After popping to the wild island of Little Key, you can enjoy the tranquil haven of Pinel Island where you'll find a number of fascinating things to do, like lazing on the beach sipping a cocktail, exploring the seabed with your snorkeling gear, feeding the iguanas that live on the island, and discovering the riches of Mother Nature along the footpaths with panoramic views.

Caribbean Paddling also organize unforgettable day outings for cruise passengers stopping over on St. Martin. Looking for accommodation on the island? Check out the villas proposed by Caribbean Paddling and book yours right on the beach.
Info
Point of departure : Cul-de-Sac
Point of arrival : Ilet Pinel
CARIBBEAN PADDLING


Embarcadère de Pinel

97150, SAINT-MARTIN

Send an email to the establishment
Main facilities at the establishment
Qualified instructor/guide

Parking
Services/Amenities
Parking
Service provided by a qualified instructor/guide
Other useful information
From 01/11/2021 to 15/08/2022
Basic price
Check out what is near to
CARIBBEAN PADDLING