If you succumb to the appeal of a luxury vacation on St. Martin, you and your family will enjoy pleasures you've never even dreamed of. Perfection, elegance, sophisticated comfort, anything you please. Your demands will be met first by your cozy nest, an outstanding accommodation fit for a king that offers glamor and chic for a privileged few.
With your family, you'll enjoy all the sumptuous delights that celebrities enjoy on vacation. St. Martin is the perfect destination if you want the red carpet rolled out for you and your every whim satisfied.
A sublime villa worthy of royalty
For your luxury stay on St. Martin, you'll start by looking for an outstanding villa in which to settle and enjoy the peace and quiet. You're a busy person and your time is money. You'll entrust this task to an agency that specializes in luxury rentals. St. Martin Sotheby's International Realty, a reputed brand and undisputed leader on this market, will put its team of experts at your service.
The staff of 100% Villas have expert knowledge of the island and all its wonderful assets. With more than 11 years of experience in all types of property, they will bend over backwards to find the one that meets all your expectations, however extraordinary. The Property Ink also proposes bespoke services to match your every desire. This agency handles the most beautiful dwellings, to accommodate anything from 4 to 24 guests.
Terres Basses, a private estate in the west of the island, boasts over 200 luxury villas and is sure to satisfy. At an ideal spot that's in high demand, you'll enjoy the good life in a property with a swimming pool and deck chairs, surrounded by a tropical garden. When evening falls, with your family or in the company of friends staying on St. Martin or in the vicinity, you'll gaze in wonder at the splendor of the magical colors created by the setting sun. You'll invite them over for a party and celebrate together like real stars on vacation.
Thanks to St. Martin Sotheby's International Realty or 100% Villas, you'll soon realize that you've taken up residence in an astonishing setting, with a panorama that unfolds in every hue of blue and green between sky, land, and sea. You'll enjoy high standards of service worthy of the world's happy few. The Property Ink has made this their specialty. Their discreet, courteous staff will be on hand. The concierge, housekeeper, and butler will all be there to satisfy your needs.
Luxury rituals and pampering
Freed from the burden of practical issues, you'll enjoy a spending spree in the luxury boutiques, remaining incognito behind those enigmatic dark sunglasses, casual yet stylish with the latest fashion must-have. In Marigot, you'll find all your favorite brands – Dior, Mont-Blanc, Fred, Rolex, Cartier, Omega, Chanel, Longines – at Goldfinger. At Longchamp just next door, you'll give in to temptation among the most beautiful bags. Next, at the Lipstick perfumery, you won't be able to resist the fragrances and cosmetics from top international brands (Paco Rabanne, Escada, Givenchy, Chanel, Gucci, Burberry, Dior, Prada, etc.).
Exhausted by your afternoon's shopping, you'll just want to enjoy the tranquility of your villa. But your slightly aching body will demand a massage to melt away the fatigue caused by walking from boutique to boutique. You'll call upon the services of a professional who will come to your villa and make you feel wonderful.
Another day, another massage, another place. You'll delight in the spa treatments which will take you to a new dimension that mere mortals cannot reach. The spa at La Samanna, located in Terres Basses, is one of those sanctuaries frequented by high society.
You'll enjoy a range of specific treatments in a silent haven of peace where nothing disturbs the tranquility, in the middle of exotic gardens that are a constant feast for the eyes. Selected to pamper you from head to toe, the first-rate natural products will send your senses reeling. Hot stones, body scrubs, body wraps, sun preparation, and plantar reflexology will bring you heavenly sensations from within.
You'll leave this little Eden with regret and promise to return as soon as possible. On St. Martin, luxury is also about wellbeing, relaxation, and divine fulfillment.
Luxury gastronomy with a private chef
Well-known personalities enjoy entertaining guests in the privacy of their house. You can do the same, by calling upon the expertise of a chef who will come to cook dinner for your family or cherry-picked guests. Another facet of St. Martin-style luxury!
Trained at prestigious establishments, your chef will put all their talent and passion into your meal. Curious and ambitious, they will take inspiration from many sources while remaining true to the world-class reputation of French culinary excellence. They will take care of absolutely everything while you continue to indulge yourself by dipping in the pool or gazing from your deck chair at the heavenly view that never fails to mesmerize you. Depending on the number of guests, they may even serve too.
You'll surrender to the must-eat and must-drink delights. Appetizer, starter, entrée, and dessert, everything you need for an adventure of the senses.
You'll be at home, which means you can take as long as you like over your meal.
You'll pursue this evening of pure happiness out on the patio or in the lounge, pleasantly chatting and dreaming of your next dinner party.
There's a whole art to living like a celebrity, an art you will experience during your luxury stay on St. Martin. Your children's eyes will light up like a sky full of stars. The whole family will make wonderful memories and you'll want to do it all again. Once you've had a taste of luxury on St. Martin, you'll be back again and again for another great escape. Come and live the dream on St. Martin!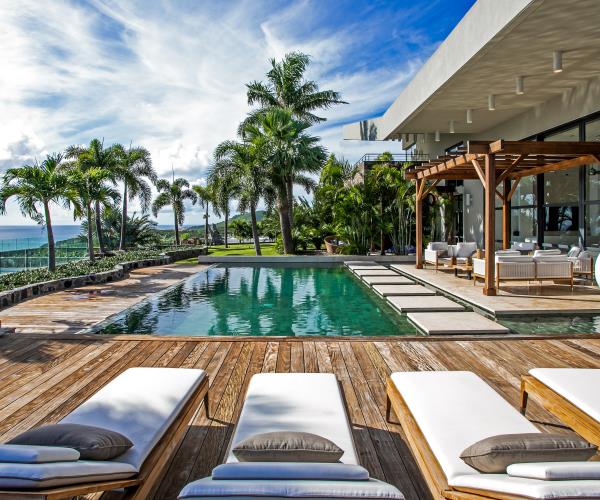 Accommodation
100% Villas' enthusiastic team of multilingual professionals proposes a catalog of about 70 majestic villas for rent or for sale. Their hearts are set on creating your bespoke vacation to ensure you get the very best experience. There's no limit to the luxury offered by these properties to make your every wish come true...
Learn more