Located 2 miles to the northeast of Saint Martin, Tintamarre is a magnificent natural haven of peace surrounded by ocean. It covers an area of nearly 250 acres and is part of the Nature Reserve.
The Story of Tintamarre Island
Tintamarre was once inhabited by a Dutchman named Diederik Johannes Van Romondt, who developed the island's economy around cotton cultivation, sheep, cattle and poultry breeding, and the production of butter and cheese. In 1902, about 150 people lived on the islet of Tintamarre. Van Romondt even quarried limestone rock and gathered blocks of coral which he exported to Saint Martin for the production of lime, the only cement powder available on the island at the time. The remains of a railroad and some small wagons are reminders of this mining activity. In 1931, Diederik Johannes Van Romondt sold Tintamarre to Louis Constant Fleming, the mayor of Saint Martin, who annexed the islet
Tintamarre then became the base of a small airline called Compagnie Aérienne Antillaise (CAA). A 1,600-foot dirt-track runway was used for flights to and from neighboring islands. At that time, Tintamarre had a population of about twenty people who ensured everything ran smoothly at the airfield. But after a few accidents, the airport closed down in 1952. Today, nobody lives or works on Tintamarre Island. Of its glorious past, only a few clues still remain.
Day Trip to Tintamarre
A day amid the azure and turquoise of a deserted beach is a unique experience that will bring out your inner Robinson Crusoe. On this uninhabited island you'll be closer than ever to nature. You can swim, explore the seabed, or visit the island with its vestiges of the past and its red cliffs.
White Bay, on the west side of the islet opposite Saint Martin, is the easiest beach to reach. You won't find any umbrellas or restaurants here. Just a stretch of white sand and crystal-clear water. You can explore the seabed with flippers, a mask, and a snorkel. It's very likely you'll spot some turtles and stingrays swimming in the crystalline waters near the boats.
And if you're equipped with diving cylinders, you'll be able to explore a shipwreck submerged just off the beach. Another highly original activity is to walk around the entire islet. You can venture along the clifftops in the north and southwest, and discover the coral reef of the wind-exposed lagoon. Last but not least, head south to find a second beach just a few minutes' walk from where the boats berth. This is the most unspoiled beach and it is a real breeding ground for many species of fish. The sight will leave you speechless. Be mindful of nature and remember, you are in a Nature Reserve.
Getting to Tintamarre Island
Getting to Tintamarre Island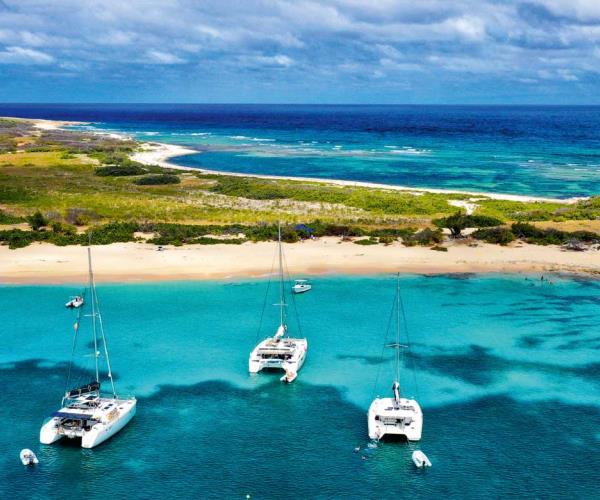 Tour
Its name comes from the Spanish "tinta mar" meaning color of the sea. With its ocher-colored cliffs, turquoise lagoon, and golden sand, this two-beach island is a wild paradise. Since it's within the Nature Reserve, it's forbidden to take cuttings.
Learn more