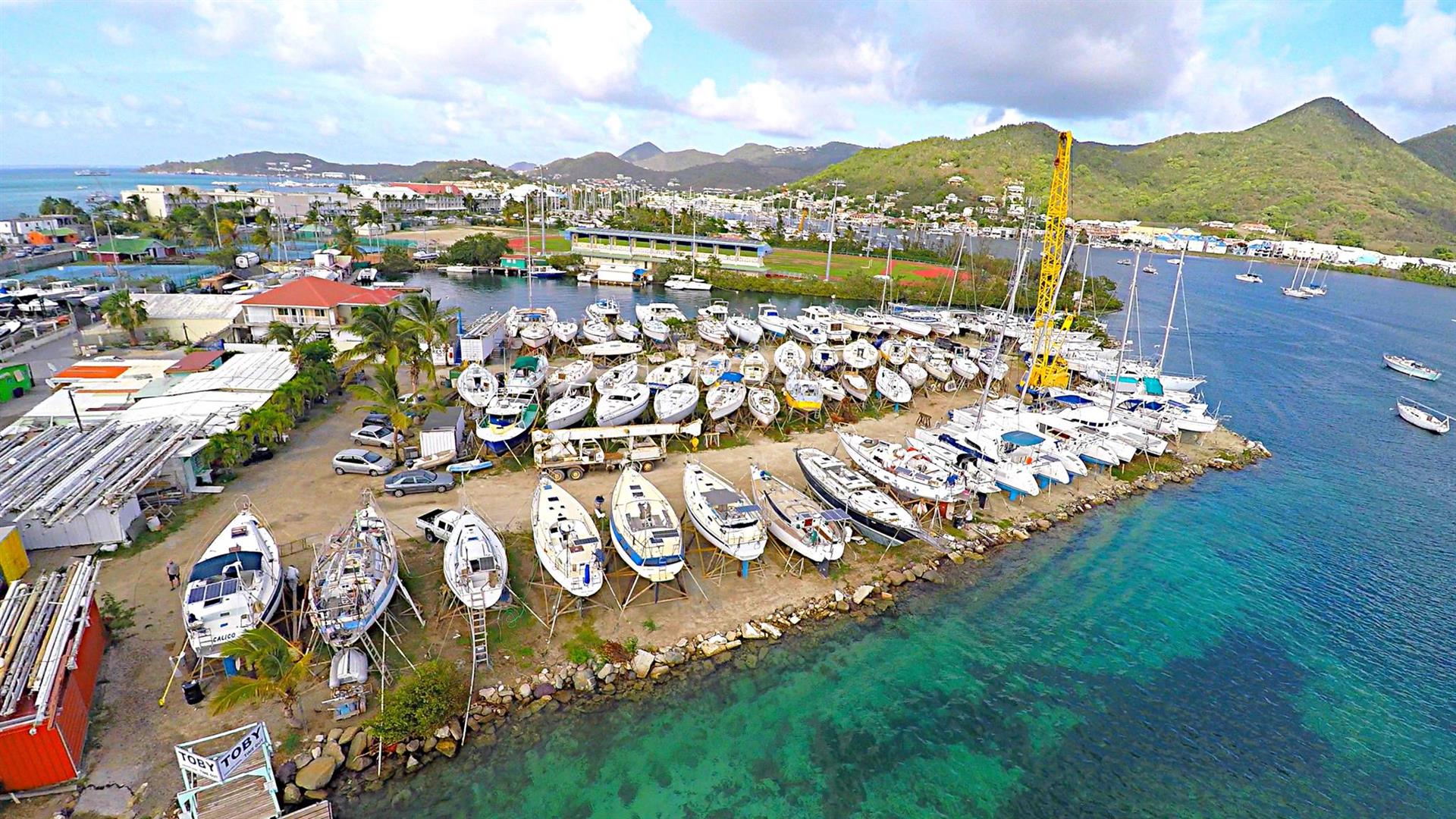 CHANTIER NAVAL TIME OUT
This boatyard with a warm and friendly atmosphere can house your boat all year round and shelter it during hurricane season. Time Out can be found at Sandy Ground on the access channel between the sea and Simpson Bay lagoon. In this quiet boatyard, you can work on your own boat to your heart's content.
The Time Out boatyard has dry-storage facilities for up to 70 boats, and 8 slips are at your disposal. Crane, parking facilities, hurricane protection, masting and de-masting, individual storage containers, pressure washer, spacer, water and power supply, cleaning service...
Time Out is at your disposal and can remove your boat from the water and proposes short-term and long-term dry storage. Nearby, pleasure boaters will find specialized professionals to work on their boat, or can choose to carry out their own maintenance at the boatyard. Please note that the Time Out boatyard is often full during hurricane season, which for St. Martin is between June 1st and November 30th. From August 1st to November 1st, the crane is out of use, and monohull and multihull boats are de-masted and strapped down.

Pleasure boaters can live aboard their boats at Time Out and make use of the amenities, and the toilets and showers remain open 24/7.

For the last 10 years, Time Out has regularly hosted a key event that's open to all, the Nautical Flea Market, in the presence of the National Sea Rescue Society.
CHANTIER NAVAL TIME OUT
Sandy Ground


97150, SAINT-MARTIN

Send an email to the establishment
Other useful information
Period from 01/01/2022 to 31/12/2023
| | | |
| --- | --- | --- |
| Monday | 08:30 - 12:30 | 14:00 - 17:00 |
| Tuesday | 08:30 - 12:30 | 14:00 - 17:00 |
| Wednesday | 08:30 - 12:30 | 14:00 - 17:00 |
| Thursday | 08:30 - 12:30 | 14:00 - 17:00 |
| Friday | 08:30 - 12:30 | 14:00 - 17:00 |
| Saturday | | Closed |
| Sunday | | Closed |
Additional information about closures: fermer le samedi et le dimanche
Check out what is near to
CHANTIER NAVAL TIME OUT in Sandy Ground