If you are dreaming of an isolated, intimate and authentic beach, Happy Bay is the paradise you need. Just to the north of Friar's Bay beach, you'll find this precious little stretch of land after a ten-minute walk across the clifftops.
You can also reach Happy Bay beach from Paradise Peak or Grand Case. There are hiking trails that depart from the peak of the island, and wind over the hills and along the coastal heathland. A combination of hiking and swimming is one of the best activities to try out in St. Martin.
From Paradise Peak, go down to Rambaud (neighborhood just after Loterie Farm), then follow the ravine (when you reach Minguet art gallery) and head down towards the sea, to reach Happy Bay beach. It takes about an hour to get there.
This heavenly place is also one of the venues for the SXM Festival, from sunrise to sunset. For one whole week every year, festival-goers from all over the world come together to party to house and techno music.
A natural treasure
Happy Bay can easily be accessed barefoot, and is the ultimate picture-perfect beach with its white sand, turquoise-blue waters and coconut trees. Its beauty is undeniable and is sure to leave a lasting impression. It is one of the most beautiful beaches of the thirty-seven idyllic treasures on the island. On the shores of the Caribbean Sea, in this wild place, you'll be able to see with your own eyes, the joys of exotic Robinsonades. Happy Bay is a natural treasure, sometimes battered by the swell. If you are a fan of surfing, bring your board and test out the waters, to discover other salty pleasures. Make sure you bring cold drinks to quench your thirst because there are no bars or beach shacks here – it really is as authentic as you can get.
Sharing the area
You'll have to get to this little slice of heaven early, the intimate setting is quite limited for space so it's a question of first-come, first-served. It is the perfect place for lovers or couples looking for some peace-and-quiet. You could bring snacks with you and enjoy your lunch in this fantastic place, facing the sea, for the perfect peaceful day out.
If you are a fan of quiet days out, of being lulled by the crashing waves and the total harmony, this is the heavenly place for you. Everyone who comes here is looking to relax or take an afternoon nap, on a secluded beach. The only connections that matter here are those between body and mind, mankind and nature. A taste of this Happy paradise is guaranteed to leave a lasting memory.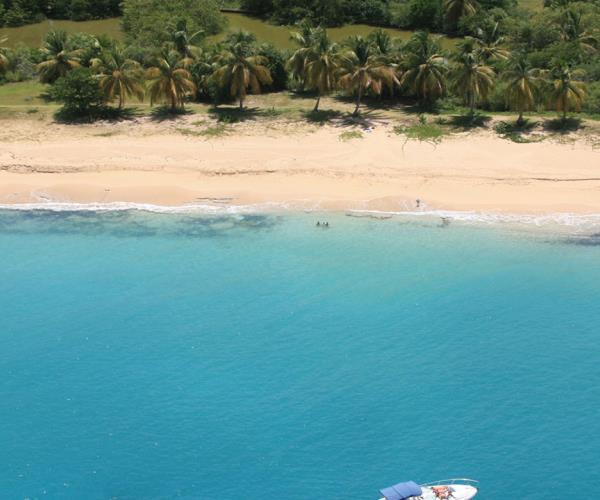 Tour
With shady coconut palm trees, an azure lagoon, velvety sand, rocks, and shells, Happy Bay is a wonderful hidden gem that can only be reached after crossing the craggy coast, but it's worth it for the picture-perfect Caribbean landscape.
Learn more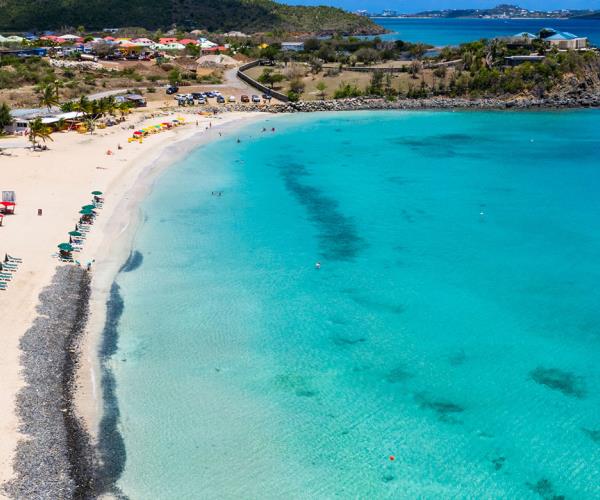 Tour
With its calm water and Caribbean hues, Friar's Bay is a picture-perfect landscape just a few minutes from the city center. It's much loved by families and is an ideal spot for lunch with your feet in the sand or a lazy day opposite the sparkling bay.
Learn more